Slide One

HIGH FIDELITY MUSIC SYSTEM


The perfect 'all-in-one' system for music and design enthusiasts alike, the R5 is the compact version of the flagship R7 that delivers its signature full-bodied sound. R5 is multi-room ready, and if desired, can be wirelessly linked with the MRx and R7 Mk3 to provide beautiful sound all around your home. Perfect on its own or complemented with a TV as a complete home entertainment solution, R5 embodies Ruark Audio's rich heritage in audio technology in a system that is timeless and built to last.
CONNECTION HEAVEN
Whether you want to wirelessly stream your playlists or connect to a turntable or TV, the R5 makes the pairing process a breeze. For direct streaming, R5's aptX HD Bluetooth receiver retains CD quality music from compatible devices. With a broadband connection, you will have access to internet radio stations worldwide and an infinite library of music through services such as Spotify, Amazon Music, Deezer and Tidal. Moreover, with both analogue and digital inputs, it's easy to connect and pair with other devices. In particular, the R5 makes a great sound system for TVs.
BEAUTIFUL INSIDE TOO
On top of our visually appealing design and high-fidelity heritage, we know that it's what's beneath the surface that truly counts. Being hands-on with every aspect of our products design, we dedicate endless hours to creating the finest available products from the inside out. The R5 uses a high capacity linear power supply with Class A-B amplifiers, active electronics and equalisation to control the loudspeaker units precisely, a technology usually only found in specialist, high value audio equipment.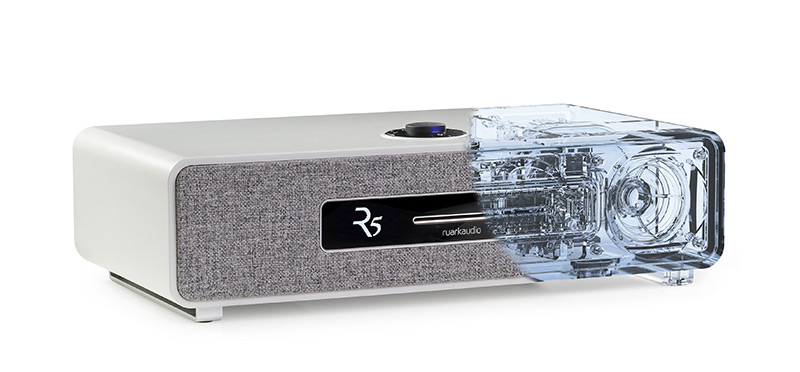 Multi-format CD Play, FM and Internet Radio
The R5 supports a variety of wireless signals, and even CD play in MP3, AAC and WAV formats with slot loading for enduring CD enthusiasts. In addition, you can experience FM radio and tens of thousands of Internet radio stations around the world with Ruark Audio's rich and clear sound.
INTUITIVE TO CONTROL
Our trademark RotoDial controller provides a slick control system which is easy to use. Like our flagship R7, R5 includes a matching remote which mirrors the main controller. Using superior radio communication, the remote does not need to be aimed during operation. Resting on a table or sitting in your hand, the remote is an ergonomic delight. For full remote control, the Ruark Link app is available for iOS and Android devices, and is ideal for managing multi-room set-up and control.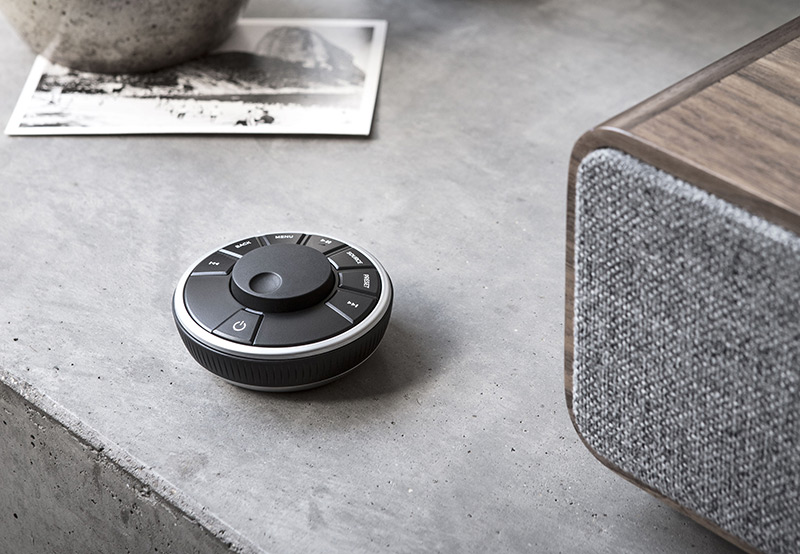 SPECIFICATION
Class-leading audio with enhanced stereo sound
Comprehensive Wi-Fi streaming with Spotify Connect and support for Tidal, Deezer, and Amazon Music
Multi Format CD player
AptX HD Bluetooth receiver
Internet radio, DAB, DAB+, and FM tuner with RDS
Multi-room ready
Wireless DLNA audio streaming
USB playback/charge port
Intuitive RotoDial control system
Digital and analogue inputs
Analogue output
High contrast OLED display with large format clock
Ethernet port
Linear Class A-B Amplifier – 90 watts nominal output
Ruark neodymium NaturalSound+ drivers
Integrated active subwoofer
Power consumption: 2.0W standby power when connected to a network; automatic standby after 20 mins, see user guide for more details
Finishes: Rich Walnut veneer
Dimensions: H142 × W520 × D300mm
Weight: 9.5kg