Slide One

Designed to exceed expectation


We believe everyone deserves good design in their lives and the smart, elegant R3S system helps people enjoy life that little bit more. It combines a dapper, upscale design with a versatile and playful form factor, topped off by a sublime sound that belies its compact stature. It is also hugely flexible, empowering users to do more than they thought possible with such a system.
COMPACT DESIGN, EXPANSIVE SOUND
R3S's carefully considered proportions create a purposeful look, whilst the cantilevered legs subtly angle the unit upwards giving the impression that it is looking up and ready to perform. Driving the system is a high-fidelity two-channel Class A-B amplifier and with our NS+ drivers and latest digital sound processing techniques we have finely tailored the sound at every level to generate a realistic sound stage that extends way beyond R3S's compact stature. Whatever your taste in music, R3S is a remarkable all-in-one system that will fulfill the needs of even the most discerning listener.
POWERFUL PERFORMANCE
On top of our visually appealing design and high-fidelity heritage, we know that it's what's beneath the surface that truly counts. Being hands-on with every aspect of our products design, we dedicate endless hours to creating the finest available products from the inside out. The R3S uses a high capacity linear power supply with Class A-B amplifiers, active electronics and equalisation to control the loudspeaker units precisely, a technology usually only found in specialist, high value audio equipment.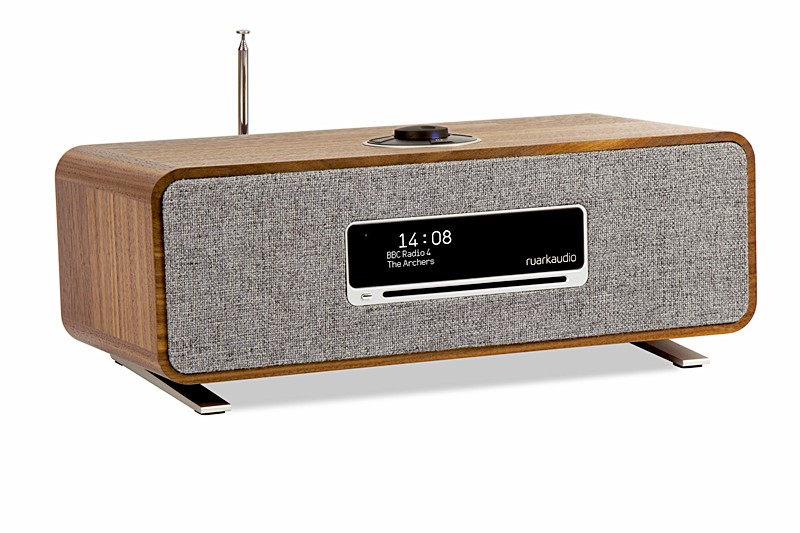 AMAZING CONNECTIVITY
Our R3S features a comprehensive wi-fi streaming system with support for Spotify Connect, Amazon, Tidal, and Deezer music services. It also has a slick multi-format CD player, aptX Bluetooth receiver, SmartRadio receiver, USB-C playback and charge port, and auxiliary inputs allowing you to connect to all your favorite music devices with ease.

SPECIFICATIONS
Class leading audio with enhanced stereo sound
Comprehensive Wi-Fi streaming with Spotify Connect and support for tidal, Deezer, and Amazon Music
Multi Format CD player
AptX Bluetooth receiver
SmartRadio Tuner with Internet Radio/DAB/DAB+/FM with RDS
USB-C playback/charge port
Infrared remote control
Digital and analogue inputs
Analogue output
High contrast OLED display with large format clock
Ethernet port
Class A-B amplifier system – nominal 30 watts output
Ruark neodymium NS+ drivers
Power consumption: 1.6W networked standby power when connected to a network; automatic standby after 20 mins, see user guide for more details
Finishes: Rich Walnut veneer
Dimensions: H167 x W420 x D220mm
Weight: 5.2kg